Hi, so first of all, i want to say that, if you are looking for a server with a load of players, your looking in the wrong place, that isn't here. This is mainly a project I am going to continuously work on, making it close to a game called Destiny (Which is my favorite game since release).
Just so you all are aware, EvilGunZ is a QUEST based client, i don't really do many updates on the PVP area side of things, PLUS i do NOT add any crap like Vamp or any stupid tags that will ruin the game-play.
WHAT IS A CLASS AND WHAT CAN I CHOOSE?
There are 3 different types of classes within EvilGunZ, the Hunter, the Titan and the Warlock. The Hunter starts with Desert Camo clothing, some awesome revolvers and a sword. The Titan starts with Battle Brood armour, a minigun and a battleaxe. The Warlock Starts with bombs and mage pills. These CAN NOT! be found in the store or anywhere else. They are unique only to the Warlock.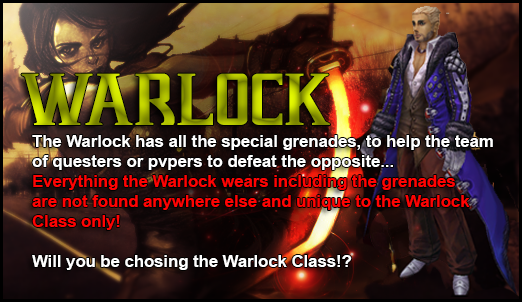 THE DROPS SYSTEM COMMONS/RARES/EXOTICS
EvilGunZ is a completely different reward based system to anything i have personally done before. There are 3 types of Weapons/Items and Clothing you can find. These are Common/Rare/Exotic.
The Drop table in EvilGunZ is completely unique and near perfect (To how i wanted it).
What is a common weapon/item clothing type?
Common items are found in the shop or from easy to kill NPCs. So for example, if you kill a Goblin or a Zombie, you may only find a GREEN COMMON item, an example of the image it will show is below.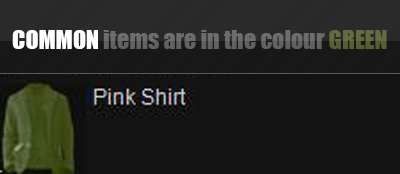 What is a Rare weapon/item clothing type?
Rare items can only be found from certain NPCs. If you manage to loot a Rare item then you are lucky, these items have boosted stats and much more powerful than any common item...
What is a Exotic weapon/item clothing type?
Exotic items are very powerful and can only be found from drops on bosses. If you manage to get an Exotic, you are most likely going to kick ass in PVP. They are not only powerful in PVP but also boosted in PVE.
How many Commons/Rares and Exotics are currently in game?
There are currently over 100+
Common
drops, 96
Rares
and 99
Exotics
Now we move on to our custom unique interface. The interface is fully customized, the main screen resolution is set to 1366x768 and the loading screens and EVERYTHING to do with the GUI in game is native to 1366x768, not all squashed into 1024x768 crap.. I have also tried to follow the Destiny concept from logging in, to choosing your Class etc...
So hopefully you are all aware of the class based system as explained above, in EvilGunZ.
Take a look at these pictures below. Credit to Wucas for the LOBBY and SHOP design base.
Oh and also, i removed any camera crap and many other things to make the logging in process much quicker...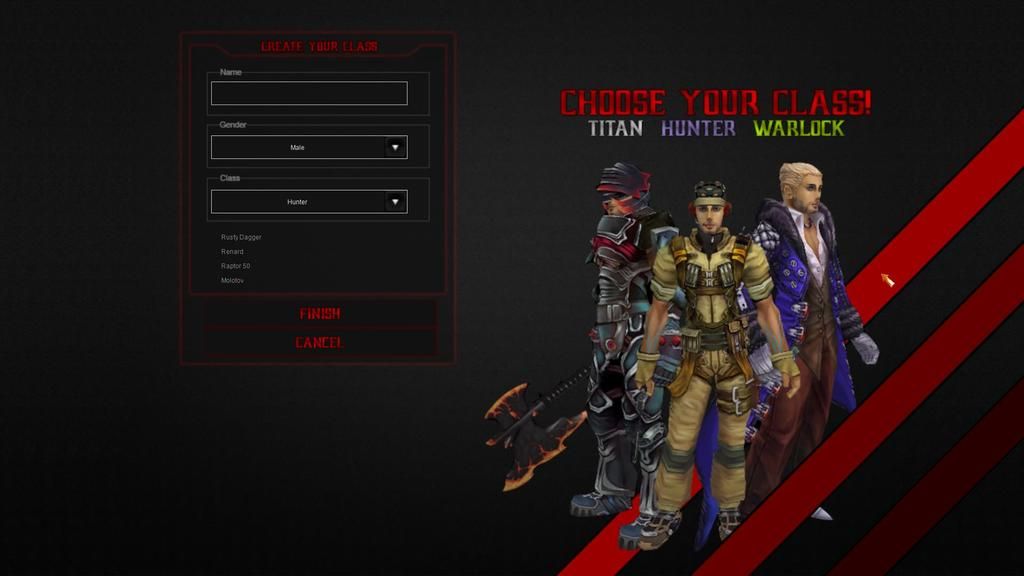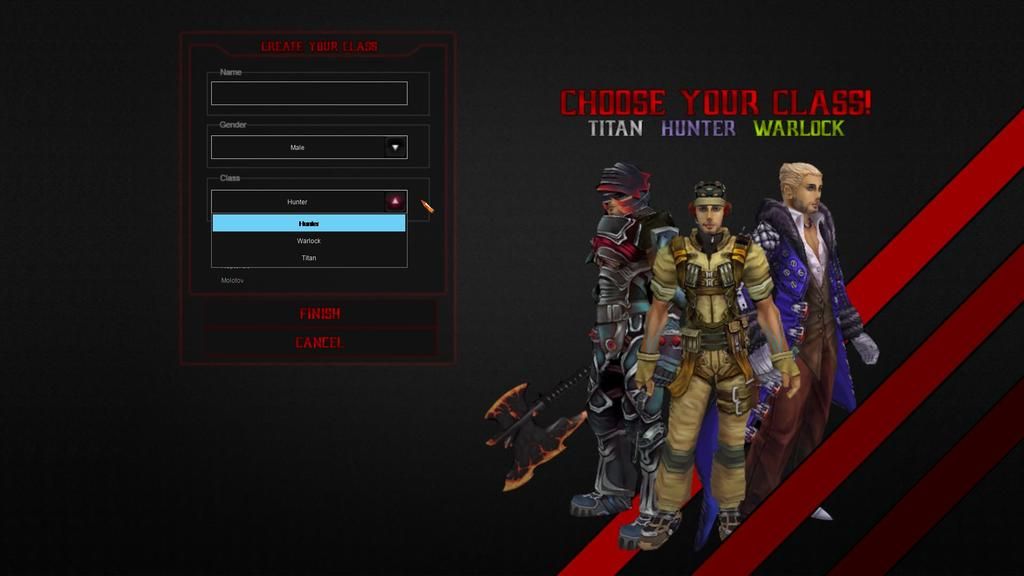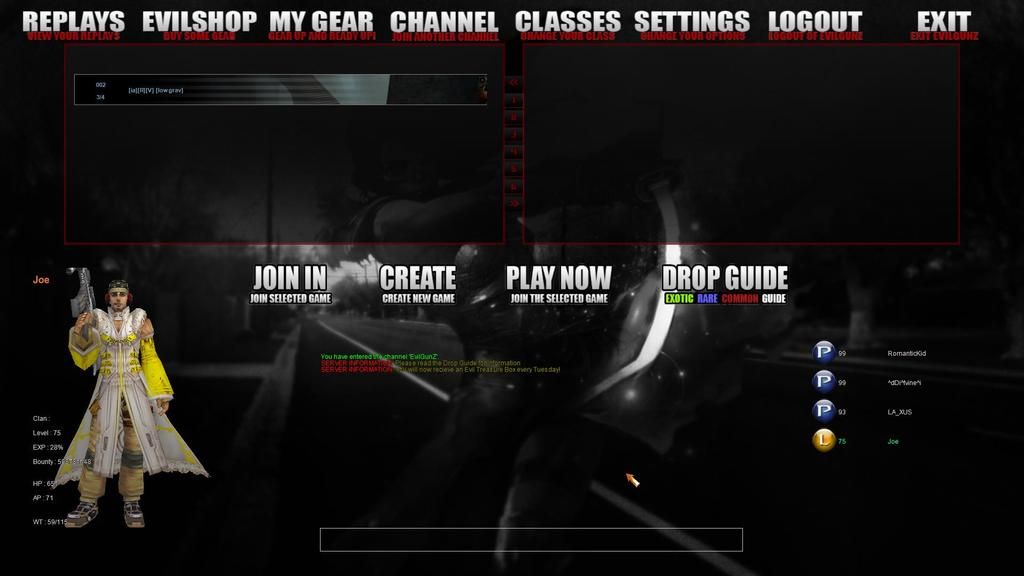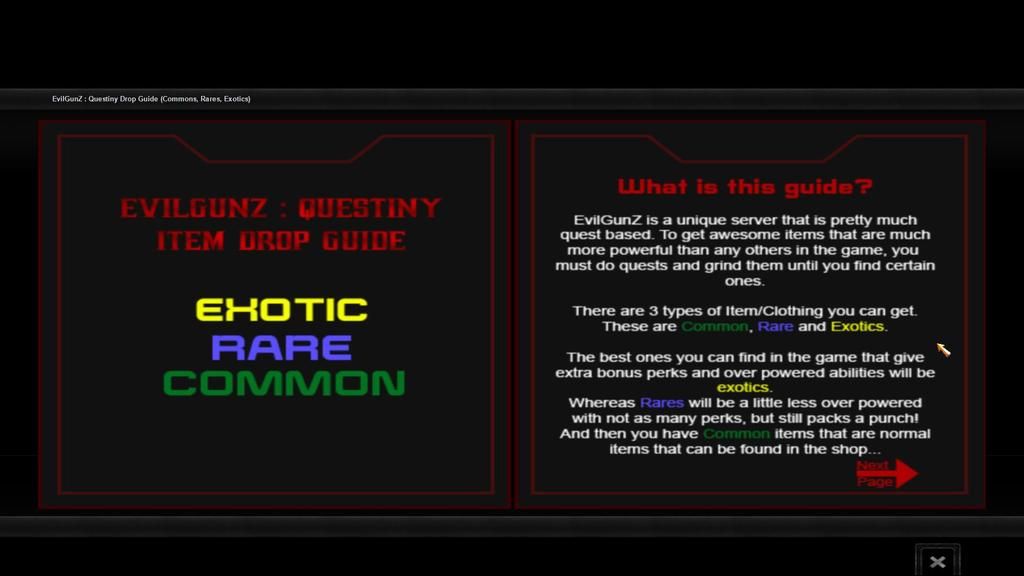 Now that isn't everything about the interface. To make the game more like the game destiny, all combo screen effects.. in fact, all screen effects in game have been removed, to give the game a more professional look to it. I hated the cheesy combos etc... So i removed them.
Right, so to reward the players that actually play and help me test stuff and all newcomers, every tuesday, EVERYONE receives a free EvilGiftBox. These Gift boxes contain some commons, some rares and a very low chance of Exotics.. But there is still that chance. This also helps if your drop luck is god awful. The time this gets sent out on Tuesdays is 6pm GMT.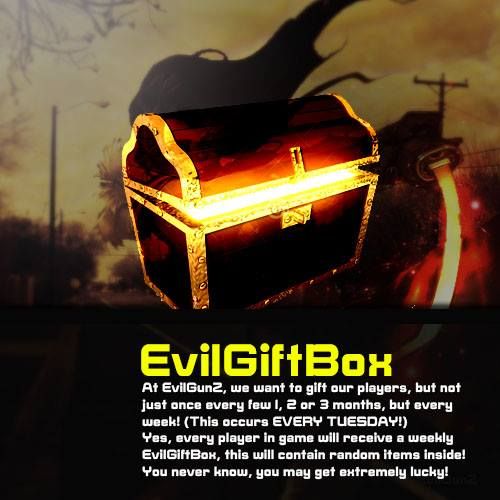 There is also custom sounds within EvilGunZ. We have a Woman and Man announcer along with custom sounds for near enough EVERY RARE and EXOTIC Gun in game!
There is absolutely ZERO VIP in game, every item can be found in game. We do not ask anyone to donate, we do not ask anyone to buy items to win, everything is waiting for you to farm and loot!
EvilGunZ has always been known for it's awesome questing. This time round it's even better, mainly due to the fact it is now a questing based server. there are over 7 Custom Quests in-game, all with awesome End Game rewards, Exotics are awaiting!
To sum it all up, i have spent a LOT of time on this client, probably all for nothing, i just like to think that i have achieved something i aimed to do. If you would like to come and try my Client out, please come a long and let me know what you think
and yes i have been doing this all alone, so if any bugs still exist, i am either working on fixing it or getting round to it.
There are many different cool features within EvilGunZ!